LIEBEHUND GERMAN SHEPHERDS AND CARDIGAN CORGIS
| | |
| --- | --- |
| | |
TANSY
(KILVROCH ADARA AT LIEBEHUND)
DoB 10/01/2008
HIPS 5:4 = 9
GPRA-rcd3 Hereditary Clear
Tansy is clear of "e" gene
DNA PROFILE held with the Kennel Club
Microchipped
Achieved Bronze Good Citizen at just 6 months.
Summer 2011 - Tansy is retired from Breeding and will now only occasionally be shown.

BEST PUPPY AT CRUFTS 2009
Achieved Bronze Good Citizen at just 6 months.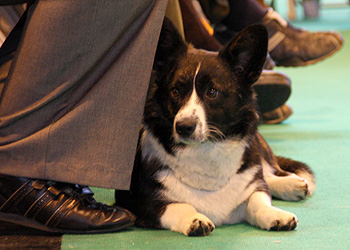 Thank you to J Flinck for

this photograph
Tansy has joined us from Eileen Eby (Kilvroch). Initially it was intended that she would be just for the boys to handle, but Jo has thoroughly enjoyed doing the training with her that she takes her to some shows.
In March 2009 Tansy was awarded 1st Puppy Bitch and went on to gain Best Puppy at Crufts. As you can imagine we are delighted with Tansy and her achievement. At Just 7 months old Tansy gained her Bronze Good Citizen Award
In April 2010 Tansy had her first litter and has become a fabulous mum.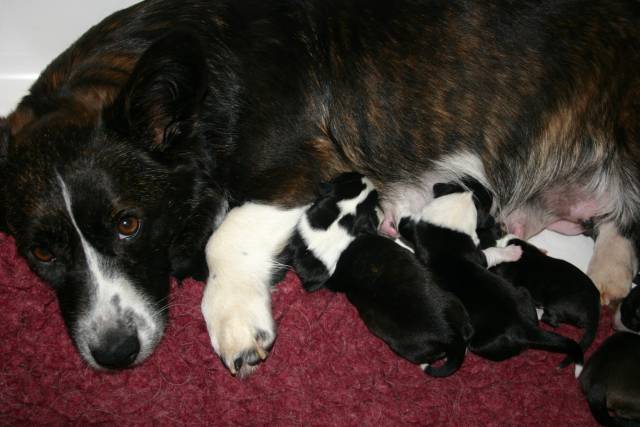 May bankholiday brought Tansy a new challenge, that of becoming a foster mum to a litter of 7 Pembroke Corgis. Unfortunately their Mum was unable to nurse them, due to difficulties at birth, Tansy took the challenge and stepped up to the mark and became super mum!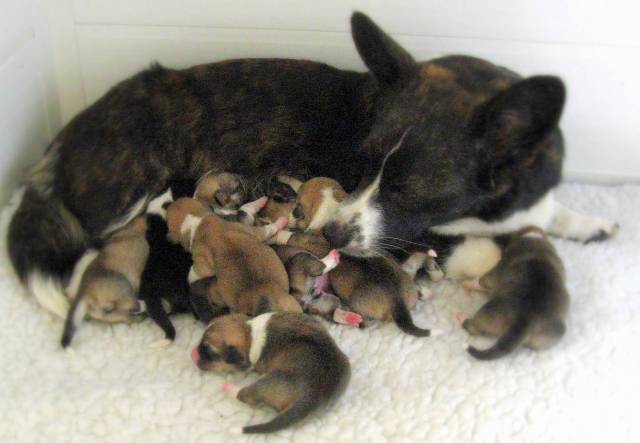 Tansy with her foster family

Photo by A Kinsey
Tansy returned to the ring to qualify for Crufts 2011 and has gone on to qualify for Crufts 2012 at her next show.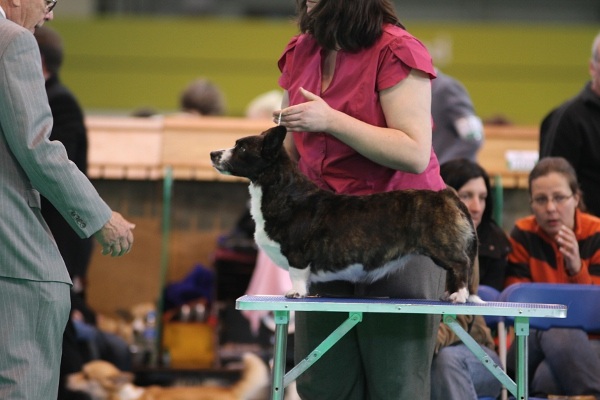 In 2011 Tansy had her second litter, and presented us with 9 beautiful puppies. We have restrained ourselves and only kept one girl "Fennel", however her sister "Ember" is living with her Uncle, a brother of Dillon's also called Dillon!! Ember is hopefully going to be in the ring occasionally and has the fab job of keeping Nigel out of trouble in his retirement! Another sister "Halo" is now in Finland living with another relative and much like the others is showing the world what a fantastic breed the Cardigan Corgi is. Others are scattered round the country, one living with Brecon, who is from Tansy's first litter, another has joined a family who do flyball, so all in all they are a pretty busy bunch! We have decided that 2 litters were enough for Tansy and she is now retired from breeding and will only be shown occasionally as she much prefers the sofa and harassing the cats!

Show results 2011
SECA - 3 Limit Bitch
Crufts - 2nd Good Citizen
Show results 2010
Sutton Dog Show - 1st Open
Crufts - 2nd Good Citizen Bitch
SECA - 2nd Post Grad Bitch
Show results 2010
Tansy has not been out much due to her mothering duties.
CWCA Champ Show, 2nd Novice Bitch
LKA Champ Show, 3rd Post Grad Bitch
Show results 2009

Crufts - Puppy Bitch 1st, Best puppy in Breed

Welsh Working and Pastoral - 1st Junior Bitch

WELKS - 3rd Junior Bitch

South East Corgi Association - 2nd Junior Bitch

Three Counties 2nd Junior Bitch

Southampton Canine Society - 2nd Limit Bitch

Windsor Dog Show 1st Post Grad Bitch

Bournemouth Canine Society - 2nd Post Grad Bitch

Richmond Canine Society - 1st Post Grad Bitch

Darlington Championship Show - 2nd Post Grad Bitch

Welsh Corgi Show - 2nd Post Grad Bitch

Cambria Corgi Show - 3rd Post Grad Bitch

LKA - 2nd Post Grad Bitch

SECA - 2nd Limit
KILVROCH RACKETT

CH FOXYDALE PRINCE

CH GWENLAIS GWRGN GOCH

CH BAILESWOOD GERAINT

CH GWENLAIS CARIAD

GWENLAIS LIZIMARY OF FOXYDALE

BAILESWOOD NEFYDD HARDD

GWENLAIS FFLOSSI FFLUSTERIS

JOSETER TAMDHU AT KILVROCH

AM CAN UK CH PHI-VESTAVIA EVAN EVANS ROMS

CH JOSETER JOSON ROMG

AM CAN CH PHI-VESTAVIA LUCK BE A LADY CD ROMG

CH JOSETER CARDHU

JOSETER HASSLE

JOSETER CAMPAN

KILVROCH TAMINA

AM CH JOSETER GRASSANMORE ROMS

JOSETER WALKER

JOSETER HASSLE

JOSETER CAMPAN

JOSETER SONATA

CH JOSETER JOSON ROMG

JOGELA LUCINDA

AM CH KILVROCH SILK STOCKINGS

JOSETER DOUBLEWOOD

CH LANCHESTER STATESMAN

CH JOSETER CHIVAS

KILVROCH MUSETTE

CH FOXYDALE PRINCE

JOSETER TAMDHU AT KILVROCH